Judge for 'Jena 6' removed
RAW STORY
Published: Friday August 1, 2008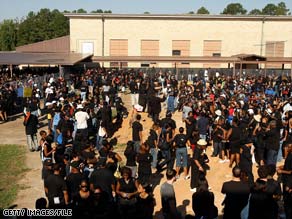 The judge overseeing the criminal cases for the remaining Jena Six defendants was removed against his will Friday for making questionable remarks about the teenagers, the Associated Press reported.
Judge J.P. Mauffray Jr. had acknowledged calling the teens "trouble makers" and "a violent bunch" but insisted he could be impartial. Defense attorneys disagreed and asked that he be removed.
The defense attorneys said the judge "had made numerous statements on numerous occasions" which indicated he had decided that at least one of the defendants was already guilty, CNN reported.
"Indeed, Judge Mauffrey has expressed his belief generally that Jesse Ray [Beard] and his African-American friends are guilty, not only of the misconduct alleged in this matter, but of several other acts of misconduct as well," according to court documents filed in the case.
Jesse Ray Beard is one of six Jena High School students arrested and initially charged with attempted murder and conspiracy to commit murder in connection with a December 4, 2006, attack on fellow student Justin Barker, who is white.
Although the charges were later reduced, the cases became a national battleground for racial tensions, drawing large protests for civil rights like the one pictured above on September 20, 2007.
Earlier this year, Jena's Martin Luther King, Jr. Day celebration was the center of a standoff between a white supremacist group and an equal opportunity group.
Attorney Dale Hickman represents Bryant Purvis, another of the Jena Six, and said it was good news that Judge Mauffrey had been taken off the cases.
Hickman said Mauffrey viewed the youths as "six thugs" and not as individuals.
Wire services contributed to this report.
Source:
The Raw Story